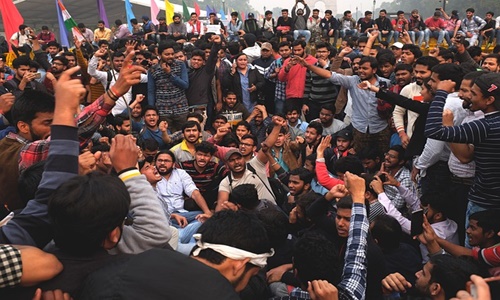 Over 1.27 million people were reportedly anticipated to participate in street protests throughout France in a second wave of planned strike action over Emmanuel Macron's divisive plan to extend the retirement age to 64.
According to rail operators, strikes affected the transportation, education, and energy sectors on Tuesday. Regional and high-speed railways across the nation, as well as city buses, and trains, including trams in towns from Paris to Nice, were also quite considerably interrupted.
Air France announced that one in every ten short- and medium-distance flights would be grounded. As per the main teachers' union, nearly half of all primary and nursery school teachers would be on strike.
It has been reported that the police estimated a million people to take part in public protests across France, akin to the large turnout during the first day of protests and strikes earlier this month.
Apparently, over 1.1 million people participated in the greatest protests against pension reforms in more than ten years on January 19. This was the largest turnout since right-wing president Nicolas Sarkozy lifted the age of retirement from 60 to 62 in 2010.
According to polls, a majority of French citizens are opposing Macron's proposal to raise the retirement age from 62 to 64, while most others are supporting the demonstrations. The enormous street protests are the first significant test of the centrist president's second term in power since all major trade unions came together in a rare display of unanimity.
Macron has repeatedly urged the French people to work harder, and has used the pensions debate to highlight his intention to completely reform France's social structure and welfare system. The government has intensified its rhetoric in recent days to declare that the changes for raising the retirement age for most people and increasing the number of years of payments necessary for a full pension will be implemented.
Source credit: https://www.theguardian.com/world/2023/jan/31/france-protests-pensions-plan-retirement-age-macron