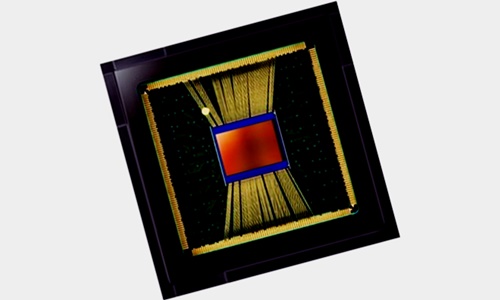 The device will make it to mainstream production in Q1 2019.
Samsung Electronics, a leader in semiconductor technology, has reportedly announced the introduction of its compact image sensor (high resolution) known as the ISOCELL Slim 3T2. The 0.8μm-pixel device is the smallest image sensor, standing at 1/3.4 inches (which is roughly 5.1mm diagonally) that delivers twenty-megapixel resolution for back and front cameras in most sleek mid-range smartphones category. Jinhyun Kwon, Vice President, System LSI Sensor Marketing, Samsung Electronics, was reportedly quoted stating that the new ISOCELL Slim 3T2 is the firm's smallest & most versatile 20-megapixel image sensor that enables mobile phone manufacturers to bring differentiated customer value not only in camera performance but also in hardware design. The demand for advanced imaging capabilities in mobile phones is continuously increasing and the firm will keep pushing the limits in image sensor technologies for great user experience, Jinhyun affirms. As reported in a press release by
Samsung
, the new ISOCELL Slim 3T2 that consists of 20-million active 0.8μm-sized pixels, not only offers excellent clarity & detail, but also provides high-color fidelity by implementing Samsung's ISOCELL Plus technology, enabling sensors to absorb & capture more light for exact color reproduction even with sub-micrometer-sized pixels. Reliable sources with the matter of knowledge states that in order to support smartphones with the latest display features such as 'notch design' or 'hole-in display', front-facing sensors need to reduce their size while being able to capture high-quality images. The 1/3.4-inch 3T2 comfortably fits into a small module making more space for the display. Additionally, Samsung's Tetracell technology that merges four pixels to function as one, allows the 3T2 take sharper & brighter pictures in low light settings. Incidentally, when the 0.8μm pixel ISOCELL Slim 3T2 is used in the rear-facing position multi-camera settings for telephoto solutions, it adopts an RGB (Red, Green, Blue) color filter array instead of Tetracell technology. Apparently, the small dimension of the image sensor decreases the tele camera module's height by 7 percent when compared to the brand Samsung's 1/3-inch 20-megapixel image sensor, enabling more elegant smartphone designs.