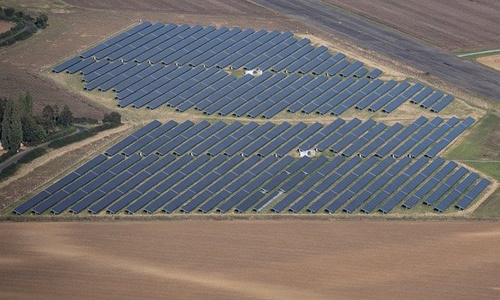 American aerospace manufacturer SpaceX is reportedly extending the solar farm at its Boca Chica Starbase in South Texas, according to documents obtained from the U.S. Fish and Wildlife Service.
The FWS documents dubbed the draft BCO (biological conference and opinion) disclosed that SpaceX is expanding its on-site solar farm by about 30%, or 1.7 acres, taking the size of the farm to 7.1 acres. The company has already commenced leveling and clearing the site for construction.
SpaceX already utilizes big batteries and solar panels at the vertical launch facility in South Texas to offer electricity for daily operations. It also runs a natural gas power facility in Boca Chica.
According to the BCO, the solar farm encompassed 5.4 acres and supplied nearly 1 MW of power, with a battery of 3.87 MW-hour for energy storage a year ago.
The planned expansion, with expected construction over two years, would add approximately 750 kilowatts of power for the total energy of 1.6 MWs, and an auxiliary battery system allowing energy storage of nearly 8 MW-hours.
The documents also indicated that the aerospace company is using panels manufactured by China-based Trina Solar at the launch site instead of Tesla-made photovoltaics.
The batteries used for the solar farm are the Power Pack energy storage systems of Tesla, but these are geared for utilities and businesses. The electric vehicle company also provides Powerwall, a residential battery, and Megapack, a grid-scale energy storage system.
During Tesla's first quarter of this year, its energy division was 10% in the red territory, with over USD 616 million of revenue and a cost of revenue of USD 688 million.
The company's solar deployments were reduced by almost half to 48 MW in comparison to the same period last year. But the battery business compensated for some of those losses. Tesla deployed 846 MWh of battery energy storage systems based on lithium-ion in the first three months of this year.
Source credit:
https://www.cnbc.com/2022/05/03/spacex-expanding-solar-farm-at-boca-chica-texas-launch-facility.html