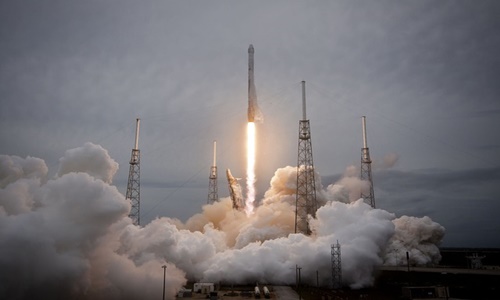 Vikram-S, the first privately-developed rocket in India, has reportedly been successfully launched for a sub-orbital mission, from Sriharikota's spaceport. As per records, Skyroot Aerospace, the startup, developed the rocket.
The rocket reportedly lifted off at 11.30 a.m (IST) for a mission called 'Prarambh' (beginning). It reached an altitude of 81.5 km (50.64 miles) after about 2.3 minutes, while it was carrying three payloads, totaling 83 kgs (182.98 pounds). After about 4.84 minutes, it splashed back into the Bay of Bengal, at a distance of 115.6 km (71.83 miles) from Sriharikota.
The three payloads that it was carrying were from N-Space Tech India, Space Kidz India, and Bazoomq Armenia. As per credible sources, these payloads are equipped with sensors, which can be used to measure pressure and acceleration.
The Hyderabad-based Skyroot, the 1st Indian startup to sign an MoU with ISRO regarding rocket launching, claims that Vikram-S was a single-stage rocket, that was driven by solid-fuelled propulsion. It was built using cutting-edge technologies, like 3-D printed components and carbon composite structures.
It will help in validating and testing major technologies in the orbital-class launch vehicles of the Vikram series, which will be tested before and after lift-offs of the launch.
Once the mission was deemed successful, Pawan Goenka, the chairman of IN-SPACe (Indian National Space Promotion and Authorization Centre), claimed that this is a historic moment for the country and a new beginning for the Indian space sector.
Jitendra Singh, the Union minister to witness the launch also claimed that this was indeed the beginning of a new journey in India's space program. He also thanked Narendra Modi, the Prime Minister of India for allowing private entities to participate in the space operations.
Meanwhile, IN-SPACe, the space regulator and promoter in India, has been the single autonomous nodal agency, working under the DoS (Department of Space), with the aim of boosting the private sector space economy.
Pawan Chandana, the co-founder and CEO of Skyroot Aerospace, thanked both ISRO and In-SPACe and claimed that they have indeed, created history.
Source Credit: Vikram-S: Prarambh mission of India's first privately developed rocket successful | India News - Times of India (indiatimes.com)