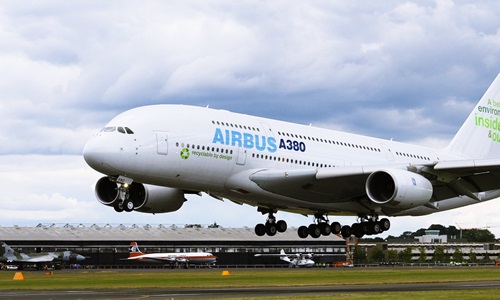 American Airlines becomes the first major U.S. carrier to purchase the longest-range narrow-body European planes
The deal was announced at the Paris Air Show
American Airlines Group Inc., a major American airline, recently announced that it has ordered 50 longest-range version of Airbus' A321 narrow-body jets. The purchase would limit room for rival Boeing's expected foray into mid-range flying, cite sources. The deal was announced at the Paris Air Show, making American Airlines the first major U.S. carrier to purchase longest range, narrow-body aircrafts, newly offered by Airbus. Under the agreement, the airlines will convert 30 of its order for A321neo (smaller Airbus' planes), in favor of long-range models and is expected to order 20 additional A321XLRs. The new planes are expected to replace some older aircrafts like Boeing 757s. The planes are also aimed at longer routes. The A321 is expected to open more routes between the U.S & smaller cities in Europe. As per sources close to the matter, American Airlines endorsed the new Airbus aircraft while Boeing was considering double-aisle, mid-range route targeting planes. As per industry experts, Boeing is expected to present the new offering at the Paris Air Show. International Airlines Group also ordered 14 Airbus XLR planes for its Iberia and Aer Lingus airlines. Followed by the announcement of the deal, Airbus reportedly received 8 orders for more than 160 XLRs. Air Lease Corporation, that leases airplanes to airlines around the world, placed the initial order for 27 XLRs. After deliveries begin in 2023, Frontier Airlines will also be flying the XLR shortly and its parent company Indigo Partners placed an order for 50 XLRs, with plans to put 18 of them in the company's fleet and other in its stable of discount carriers in Europe & Latin America. As per credible sources, both American Airlines and Airbus declined to disclose the financial terms related to the deal, though Robert Isom, President of American Airlines, has confirmed that initially the XLR will cost the airline more than the A321neo.
Source credits:
https://www.cnbc.com/2019/06/19/american-airlines-to-become-the-first-us-airline-to-order-new-airbus-plane.html