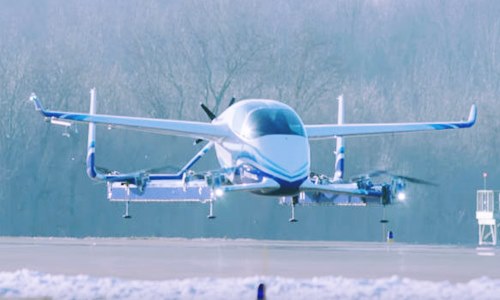 The announcement of the flying car test comes as the aviation sector begins to foray into urban aerial mobility.
The flight test was conducted by the company's NeXt division, which is also in charge of the company's heavy-duty aerial drone prototype.
The Boeing Company (Boeing), a renowned American multinational aircraft manufacturing firm, has reportedly announced that its newly developed fully-electric autonomous air vehicle prototype has successfully completed its first inaugural test flight. Reports cite, developed by Aurora Flight Sciences, a Boeing subsidiary, the vehicle's test flight was a small yet significant step for one of the world's largest aircraft manufacturers as the global aviation sector has started to branch out and foray into the untapped field of urban aerial mobility. According to a report by
Reuters
, the company's 30-foot-long prototype vehicle, whose design is an amalgamation of a drone, a helicopter and a fixed wing aircraft, managed to lift off the ground to come to a steady hover made a soft landing within a minute of getting airborne at an airport located in Manassas, Virginia. The company is currently competing with long-time rival, Airbus SE as well as several other firms to develop small-sized fully operational self-flying vehicles that can do vertical take-off & landings, suitable for urban environments. The company would now commence with additional tests that would revolve around the vehicle's forward, wing-borne flight. The vehicle would also be tested on the transition phase it goes through when it switches from vertical hover mode to forward flight mode. Reports claim, the vehicle is a sizable step that would shape a future that contains electric flying taxis capable of flying from one skyscraper to another, carrying passengers or cargo, giving birth to a new form of urban mobility. The tests were reportedly conducted by the company's Boeing NeXt division, which is also in charge of the firm's heavy-duty aerial drone prototype that is capable of lifting a payload weighing around 500 pounds. According to reports, the financial details related to the autonomous aircraft project have not been unveiled yet.