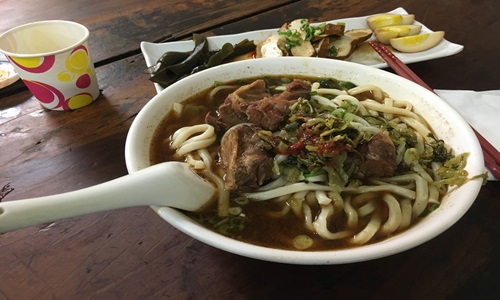 H Mart is mainly popular for Taiwanese food.
The Asian giant plans to offer a freebie of Hello Taiwan.
The largest Asia-based supermarket chain in the U.S., H Mart is gearing to hold a two-week Taiwanese food festival until November 21 across ten stores in California, New Jersey, New York, Texas and North Carolina. Catering to an international palette in the U.S., H Mart offers many Asian foods. The Asian grocery, famous for its 'one-stop shopping experience, will offer food galore, including a range of food from Taiwan, Hsinchu Old Pot Rice Noodles, spanning Sugar & Spice's French nougat, Hwajen homemade biscuits, and SauceCo dipping sauces. The food festival is running under the banner€œH Mart Taiwan Food Festival.€ According to credible sources, H Mart is likely to provide a freebie of Hello Taiwan—Taiwan's Super B studio designed lunch bag for customers who shop over US$50 of Taiwanese products showcased at the mega-event. Taiwan's Corporate Synergy Development Center and Small and Medium Enterprise Administration of the Ministry of Economic Affairs collaborated to organize the mega event. Acknowledging 'One Town One Product (OTOP)' concept, H Mart vies to bring forth Taiwan's unique products and provide seamless retail experience, making customers feel at ease. With Thanksgiving just around the corner, customers can expect sleekest and coolest gifts at the food fest.
About H Mart
H Mart is number 13 on the reputed National Retail Federation's 'Hot 100 Retailers' list, and Supermarket list has placed it among the Top 50 Small Chains and Independents in the U.S. and Canada. With operations established in the year 1982, H Mart commenced with one store in the Queens area. H Mart has had a fairy tale ride and spans over 97 stores across the U.S. H Mart is known to sell grocery items as well as daily essentials along with upscale products.
References:
https://business.financialpost.com/pmn/press-releases-pmn/business-wire-news-releases-pmn/h-mart-grocery-brings-popular-taiwanese-food-to-the-states