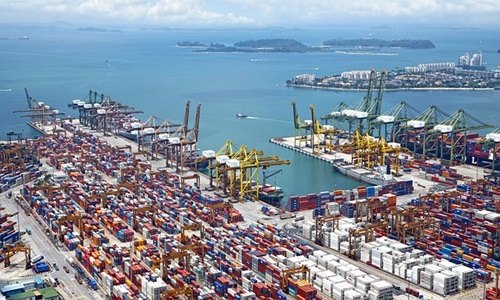 Import prices in Korea reportedly rose for the first time in nearly three months in September, as a thriving dollar raised the cost of importing raw materials from abroad despite the recent moderation of crude oil prices, according to central bank statistics released Friday.
As per preliminary statistics from the Bank of Korea (BOK), the import price index increased by 3.3% from a month earlier to 154.38 in September.
Following on-month drops of 2.6% as well as 0.9% in July and August, respectively, it was the first drop in three months. The index increased by 24.1% from 2021.
The rapid decline of the won against the dollar has increased the cost of imports, compensating for the drop in crude oil prices.
In comparison to the dollar, the won has decreased by almost 17% this year, making imports more expensive, as per the BOK.
According to the report, raw material prices increased 3.4% month over month in September. Over the same period, intermediate product prices rose by 3.1% as well.
The benchmark price for South Korea, Dubai crude, was $90.95 per barrel in September, a 5.9% decrease from the previous month. The price of oil was still up 25.2% over the previous year.
The rise in import costs is being constantly monitored since it could increase inflationary pressure.
Consumer prices, a key indicator of inflation, increased 5.6% on-year in September, falling from the 5.7% increase in August.
The BOK anticipates that inflation will remain at the 5–6% level for a considerable amount of time.
Meanwhile, the policy rate was raised to 3% on Wednesday by the BOK, the second big-step rate increase of 0.5 percentage point and the biggest in almost ten years. The won's rapid decline versus the dollar was highlighted by the central bank as grounds for the rate increase on Wednesday.
To reduce inflation, it was the eighth increase in rate, since August 2021, representing an increase of a total of 2.5 percentage points.
Source credit: https://www.koreatimes.co.kr/www/biz/2022/10/488_337868.html