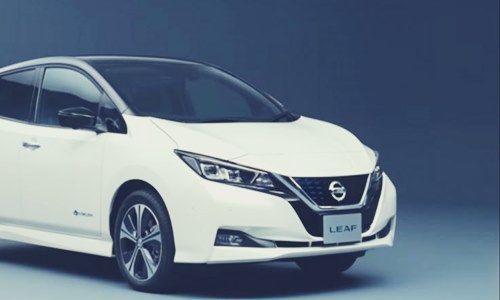 The new electric vehicle is reported to have a range better than its competitors. 

Nissan Motor Co., the Japanese multinational automobile manufacturer, recently unveiled its new version of electric vehicle, Nissan Leaf which is reported to further close the gap between the best-selling EV of Nissan when compared to General Motors Co.'s Chevrolet Bolt or Tesla Inc.'s Model 3.

The Leaf e+ made its debut at the Consumer Electronics Show, 2019 in Las Vegas and comes with a more energy-dense battery that can extend the range of the vehicle by 40% to travel as much as 226 miles or 363 kilometers on a single charge. When compared to Model 3 which has a 220 to 310-mile range and costs $44,000 and the $36,620 Chevrolet Bolt which delivers a 238-mile range, the Leaf e+ is definitely at an advantage. The Leaf is prices at $30,000 in the U.S. while the price for Leaf e+ has not yet been disclosed. It is being assumed that the automaker will only release the pricing for the new version once it is closer to the spring of 2019 when Leaf e+ will start selling.

The automotive industry is increasingly focusing on new-energy vehicles and automation with scores of automotive startups coming up in China to Germany as well as an aggressive impetus contributed in both areas by Tesla. These add to the challenges faced by Nissan in garnering success for its new Leaf e+.

For the record, 380,000 Leaf vehicles were sold globally by Nissan since the launch of the first model that went on sale in 2010. Nearly 128,000 vehicles were sold in the U.S. alone. In an official statement, Nissan has been reported to say that the new Leaf e+ will be available in Japan from January 2019. Next it would start selling in the U.S. and will be made available in Europe by the middle of 2019.

Incidentally, Nissan had to delay the launch of the Leaf e+ as the architect of the company's electric-car vision and former chairman, Carlos Ghosn, got embroiled in financial misconduct scandals and was arrested.