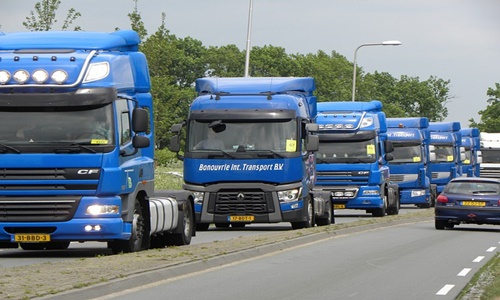 South Korea announced recently that it was considering deploying military trucks to facilitate the urgent transport of goods as it braces for a truckers' strike. The strike might increase concerns about the country's recovery post the COVID-19 pandemic and the progress of international supply chain activities.
The countrywide protest organized by trucker unions is expected to begin at midnight (1500 hrs GMT) and will be the 2nd one in under 6 months. The strike might disturb manufacturing activities and fuel supplies in the 10th largest economy in the world.
Sources say that the strike's main organizer, Cargo Truckers Solidarity Union or CTSU, which is pressurizing the central government to extend the guarantees for minimum wage, has warned to stop oil supplies at large-scale refineries and transport at major industrial plants and ports.
Won Hee-ryong, South Korea's Land Minister, stated that the government was planning to use military trucks to fulfil critical transportation needs in different areas. Won also warned protestors that he would suspend their licenses if the protests prolonged.
The Minister, through a video which was posted on his Ministry's YouTube channel, appealed to the trucker unions, especially CTSU, to cancel their plans of going on a strike. Won further stated that he was open to hold constructive talks with the unions to reduce the damage.
The first protest took place in June, wherein truckers went on an 8-day strike that delayed cargo shipments for industries ranging from semiconductor to automotive. The protest cost the Korean economy over US$ 1.2 billion in unfulfilled deliveries and lost output.
To assuage CTSU, the leader of the trucker protests, the government and the ruling party recently offered to increase the 'Safe Trucking Freight Rate' scheme, introduced while the COVID-19 outbreak was raging on in the country, by 3 years. However, it declined the unions' proposal to cover truckers in other industries, which include steel and fuel. CTSU rejected the deal.
The Korea International Trade Association, a shippers' body, stated that it had formed a task force to take care of any disruptions and decrease trade damages.
Source credit: https://www.reuters.com/article/southkorea-strike-truckers/s-korea-braces-for-supply-disruptions-as-trucker-strike-looms-idUSKBN2SD03O