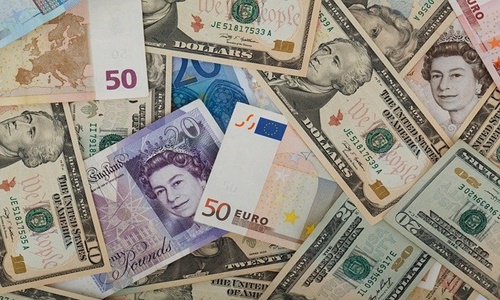 The British pound has reportedly plunged to a record low against the US dollar as markets respond to the UK's greatest tax cuts in over 50 years.
Sterling dropped almost to $1.04 in early Asian trade before recovering some ground to reach around $1.05.
Chancellor Kwasi Kwarteng has pledged additional tax cutbacks on top of the £45 billion ($48 billion) in hopes of a rise in borrowing.
The rise of the dollar has put pressure on the pound as well.
The euro also hit a new 20-year low compared to the dollar, worrying investors about the potential of an economic slump as winter approaches and there is continuing energy shortage and a crisis in Ukraine.
If the pound continues remaining low against the US dollar, importing commodities in dollars like oil and gas will become more expensive.
Other US products may also be more costly, and British travelers visiting the US may find their vacation more expensive.
Furthermore, there are concerns that tax cuts and increased government borrowing will rapidly fuel increasing inflation and the Bank of England will eventually be forced to raise interest rates even further. As a result, millions of households would face higher monthly mortgage payments.
Last week, the Bank raised interest rates by 0.25% to make it 2.25% in order to reduce inflation, which has reached a 40-year high of 9.9%.
Market watchers forecast that interest rates will hit 5.5% by next spring.
After unveiling a significant tax shake-up on Friday as part of a mini-budget to spur economic growth, Kwarteng warned that there's more to come concerning tax reductions.
Stamp duty and income tax on property sales will be reduced under the plans, which the Chancellor described as a 'new era' for the economy, while anticipated increases in business taxes have been canceled.
Kwarteng stated that the administration will remove the 45% top rate of income tax for those earning more than £150,000 ($160817.25) per year.
Source credit: https://www.bbc.com/news/business-63030208